Maintaining high productivity in underground mines depends on the timely and reliable transport of a range of resources including personnel, explosives, fuel, oils, pipes, hoses, cables, rock bolts and other equipment.  As with all of the products in its complete line of mobile underground equipment, RDH's utility line is designed for the most demanding underground environments and is the support team your mine needs to meet its production goals. Their versatile utility carriers can be configured for custom built machines, fuel/lube transport, mobile workshops, scissor-lifts, material transport, concrete re-mixers, boom trucks, shotcreters, AN-FO loaders, and personnel carriers.
An important member of that support team, the Haulmaster 600-30P, has been designed specifically for moving workers or materials long distances underground.  With optional ride suspension, the Haulmaster 600-30P personnel carrier provides a quick and comfortable commute for workers, preventing fatigue and ensuring productivity.  The design can be reconfigured to meet the specific requirement of individual customers, accommodating between twelve to thirty passengers.  The rear compartment of the Haulmaster 600-30P can move up to thirty passengers with additional passenger seating in the driver's compartment.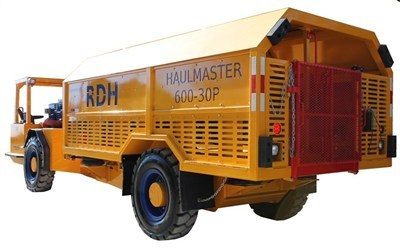 The Haulmaster 600-30P safety features include two emergency exits, an ANSUL fire suppression system, and safety door interlocks in the rear passenger compartment.  Safety door interlocks prevent accidents by automatically applying the brakes in the event a door opens during travel.  The personnel carrier ensures safe and easy access for passengers and the rear compartment includes comfortable bench seating with independent seat belts.  Both the rear compartment passenger area and the operator's compartment can be fitted with optional ROPS/FOPS certified canopy or fully enclosed, climate controlled, ROPS/FOPS certified cabin.
As with all of the products in its line of utility vehicles, the RDH Haulmaster 600-30P also includes the following standard features:
Articulated carriers with heavy duty frame construction
Reliable, proven power train components with engines that comply with strict emission regulations
Four wheel drive & powershift transmissions providing superior  traction
Easy maintenance & accessible service points
Organized & accessible management of hydraulic & electrical system components
Carrier arrangements to accommodate front or midship seated ergonomic operator stations
ROPS/FOPS certified canopy & enclosed cab option
Ride suspension option for extra comfort
The Haulmaster 600-30P, along with all of the equipment in its product line, was designed with the RDH Mining Equipment design philosophy in mind; to ensure equipment is easy to learn, easy to operate, easy to maintain and is mechanically friendly.