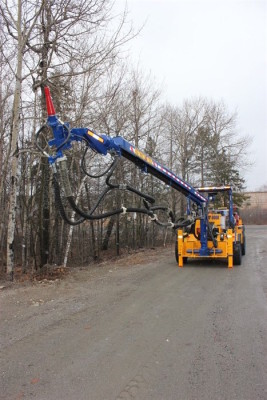 The Roboshot 600 is a self-propelled mobile concrete sprayer which optimizes concrete spraying in mining and tunnel projects with variable tunnel cross sections.  The Roboshot 600, designed and manufactured by RDH Mining Equipment Ltd. combines full-scale shotcreting performance with an extensive range of practical features in a compact design. The totally integrated robotic shotcrete machine with its compact arrangement has been designed for maximum manoeuvrability in confined spaces, ideal for mining, tunnelling and other shotcrete applications with limited access and/or work space.
The unit features a heavy-duty, triple-extension robotic slew boom and a parallel lancing mechanism with a vertical reach of 12 metres and a horizontal reach of 9 metres and incorporates air and chemical injection at the nozzle. The robotic head incorporates a 360° slew and 360° robotic rotation, whilst its specially-designed oscillating nozzle provides 360 degree nozzle rotation and 120 degree nozzle tilt. The shotcrete pump has a theoretical rated output of 30m3 per hour.
 
The unit's fully-integrated accelerator dosing system utilises a peristaltic type pump to inject admixtures at the spray nozzle. By integrating the dosing pump's operation with the shotcrete pump stroking, the admixture dose rate is constantly matched to the shotcrete output level. The dosing system utilises a 400 litre capacity stainless steel tank (ideal for use with alkali-free accelerators) and an electronic metering system with totalising for the end of each shift. The Roboshot 600 is delivered with a full-function radio remote-control unit and an 8 metre cord connector for backup operation if required.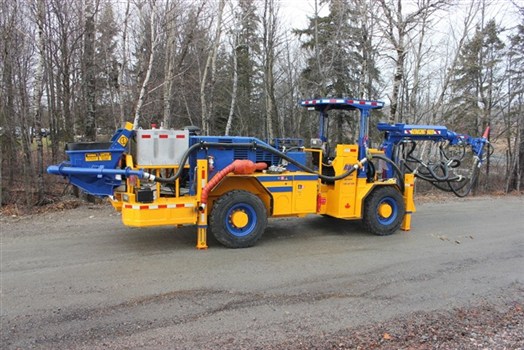 For more information on the Roboshot 600 or any of our other equipment please contact our sales department at sales@rdhminingequipment.com or call 1-800-401-3588.